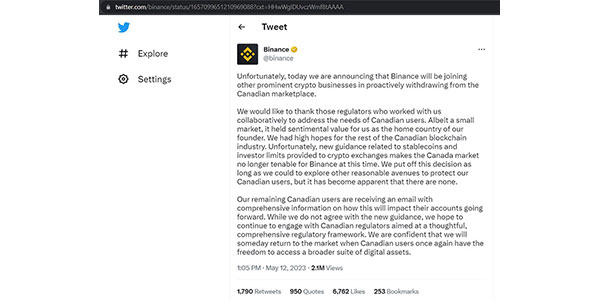 Binance, the world's largest cryptocurrency exchange, recently announced its decision to withdraw from the Canadian market. The move comes in response to new regulations that have made it challenging for crypto exchanges to operate in Canada. While Binance clarified that it is not entirely closing in Canada, it has chosen to proactively withdraw from the market alongside other prominent crypto businesses.
The exchange took to Twitter to share the news, expressing its disappointment in having to make this decision. Binance pointed out that the new guidance related to stablecoins and investor limits for crypto exchanges has made the Canadian market "untenable." The tightening of regulations in Canada, including the introduction of a pre-registration process, has increased the compliance requirements for crypto asset trading platforms. Failure to adhere to these rules may result in potential enforcement action by regulatory authorities.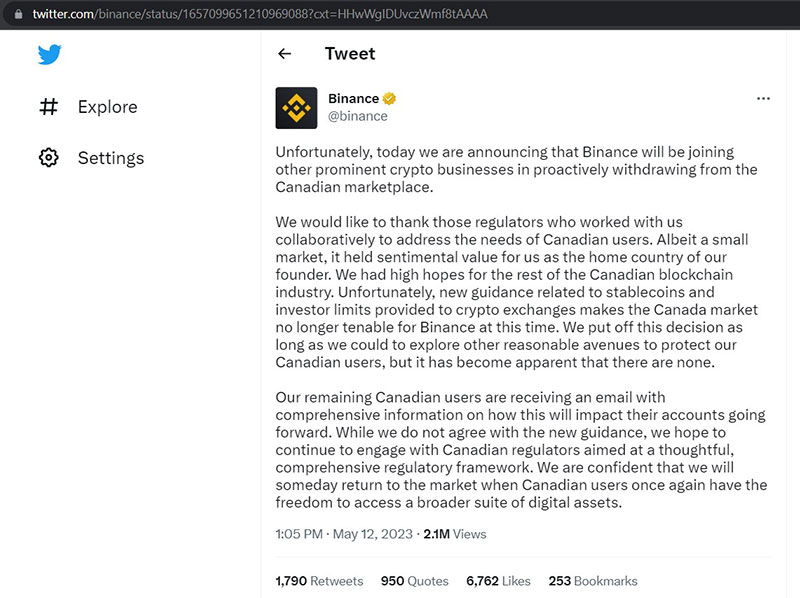 It is worth noting that Binance was already facing restrictions in Ontario as of 2022 where residents had to use a VPN in order to access Binance before the company's withdrawal. Despite this, the exchange had postponed its departure from the Canadian market in an attempt to protect its Canadian users. However, it ultimately determined that there was no viable path forward.
Binance stated that Canadian customers would receive email notifications detailing how their accounts would be affected by the withdrawal. The exchange expressed hope that it would eventually return to the Canadian market when users have more freedom to access a broader range of digital assets. Binance emphasized that it does not agree with the new guidance but aims to continue engaging with Canadian regulators to establish a comprehensive regulatory framework that considers the needs of the crypto industry.
Changpeng Zhao, also known as CZ, the founder and CEO of Binance, is Canadian, further adding to the significance of this decision. The cryptocurrency industry has been under increasing scrutiny from regulators worldwide, especially following the collapse of FTX, a major Binance competitor, in November. The aftermath of the crypto winter of 2022, which led to a significant market value decline, prompted lawmakers and securities regulators to demand tighter guidelines for disclosures and customer fund protection from crypto companies.
In March, Binance and its CEO Zhao faced legal action from the U.S. Commodity Futures Trading Commission (CFTC), which alleged that the exchange operated an "illegal" platform and had an inadequate compliance program. Zhao responded with a statement on the company's blog, asserting that the CFTC's complaint appeared to be based on incomplete facts, and Binance disagreed with the regulator's findings.
The departure of Binance from the Canadian market reflects the evolving regulatory landscape for cryptocurrencies and the challenges faced by crypto exchanges in complying with these regulations while providing services to their users. As the industry continues to navigate regulatory frameworks, the fate of crypto exchanges and their ability to operate in various jurisdictions remains a critical topic of discussion.