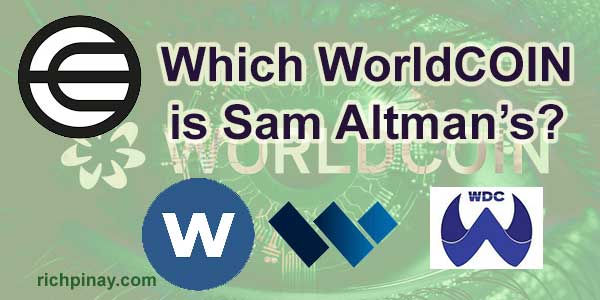 OpenAI CEO Sam Altman Created a CryptoCurrency
Sam Altman is an American entrepreneur, investor, and programmer. He is the current CEO of OpenAI, a research organization that aims to create artificial intelligence that can benefit humanity without causing harm or being influenced by external factors.
He was also the co-founder of Loopt, a location-based social networking app that was acquired by Green Dot Corporation in 2012, and the former president of Y Combinator, a startup accelerator that has funded companies like Airbnb, Dropbox, Stripe, and Reddit.
Sam Altman is a co-founder of Worldcoin, a cryptocurrency project that uses iris scans to verify the identity of its users and aims to provide a digital passport and a universal basic income for everyone.
Which Worldcoin Token Symbol: Sam Altman's Crypto Project
When it comes to the world of cryptocurrencies, it's important to be aware that certain tokens share similar names but belong to entirely different projects. Pay close attention to the token's symbol, as it serves as a unique identifier for each cryptocurrency. For instance, Sam Altman's Worldcoin (WLD) can be distinguished by its ticker symbol "WLD," while the older cryptocurrency WorldCoin (WDC) utilizes the symbol "WDC." WorldCoinIndex's utility token can be recognized by the symbol "WCI," and WorldCoinNetwork by "WCN."
Before making any purchase or investment, double-check the token's symbol to ensure it aligns with your intended transaction. This simple step will help avoid any confusion and ensure that you are buying the correct cryptocurrency.
There are four tokens that are called Worldcoin, each with a different ticker symbol. They are:
1. Worldcoin (WLD)
Worldcoin (WLD) is the brainchild of Sam Altman. Sam Altman is the CEO of OpenAI. Open AI created ChatGPT.
Worldcoin (WLD) functions as the native cryptocurrency for the Worldcoin project, which offers a unique digital passport known as World ID. By using iris scans for identity verification, users can obtain WLD as an incentive for signing up. The token also plays a significant role in governing the Worldcoin protocol. WLD operates on the Ethereum blockchain and adheres to the widely adopted ERC-20 standard. Its launch occurred on July 24, 2023, with a circulating supply of 143 million tokens and a total supply of 10 billion tokens.
2. WorldCoin (WDC)
WorldCoin (WDC) is an older cryptocurrency that originated in 2013 as a fork of Bitcoin. According to its creators, WDC is positioned as a faster and more user-friendly alternative to Bitcoin, WDC employs a Scrypt algorithm and boasts a 30-second block time. It features a variable reward system that adjusts mining difficulty and coin supply. Presently, it trades at $0.0024 with a market cap of $163,462.
3. WorldCoinIndex
Unlike the aforementioned tokens, WorldCoinIndex is not a cryptocurrency itself but rather a platform that offers real-time price information and news for over 1500 cryptocurrencies. Developers and traders can access market data through WCI's API service. The platform also introduced its utility token called WCI Token, used for paying for premium features and the API service. Currently, WCI Token trades at $0.0006 with a market cap of $60,000.
4. WorldCoinNetwork (WCN)
WorldCoinNetwork (WCN) aims to establish a global payment system catering specifically to the Islamic community. Operating on the Ethereum blockchain, WCN relies on smart contracts to adhere to Sharia law regulations. The project plans to offer a range of services such as remittance, charity, education, and e-commerce. Currently, WCN trades at $0.0001 with a market cap of $9,742.