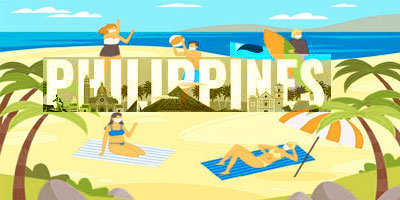 List of Requirements for Everyone Travelling to the Philippines as of April 1, 2022
In addition to complying with visa and immigration entry requirements, travelers to the Philippines will have to show the following COVID-19 – related requirements:
Proof of Vaccination (for more details, see below)
Negative Reverse Transcription – Polymerase Chain Reaction (RT-PCR) test result taken within 48 hours OR negative laboratory-based Antigen test result taken within 24 hours — prior to departure from the country of origin. ( provided that their travel is a continuous travel to the Philippines, excluding lay-overs; provided that the traveler has not left the airport premises or has not been admitted into another country during their lay-over.)
One Health Pass – for more information, visit: https://www.onehealthpass.com.ph/
proof of Covid-19 travel insurance (for non-Philippines citizens only). Travelers to the Philippines with Filipino citizenship including those with dual citizenships do not need to show proof of travel insurance.
Once in the Philippines, travelers are required to self-monitor for any COVID-19 sign or symptom for 7 days from the date of their arrival.
Travel Insurance Requirement for Non-Filipinos
As of April 1, 2022 until further notice, Non- Filipino citizens are required to have travel insurance when traveling for tourism and business to the Philippines.
Travel insurance for COVID-19 treatment costs from reputable insurance providers with a minimum coverage of USD 35,000 for the duration of their stay in the Philippines.
Can the Unvaccinated Travel to the Philippines?
As of April 1, 2022, only people with Philippines citizenship (including Filipino dual citizens), foreign diplomats, dignitaries and their dependents are allowed to enter the Philippines unvaccinated.
If you are a foreign visitor and you are not fully vaccinated, you are not allowed to enter the Philippines yet.
Additional Requirement for Non-Vaccinated Filipino Citizens Travelling to the Philippines
If you are a Filipino citizen, and you are unvaccinated or only partially vaccinated, you will be required to undergo a Facility-based quarantine until the release of your negative COVID-19 results, testing will be on the 5th day. (see link at the bottom for a list of quarantine facilities accredited by the Bureau of Immigration.)
Which Vaccines Are Acceptable When Travelling to the Philippines?
A traveler is considered fully vaccinated 14 days after they have received:
the 2nd dose of a 2-dose series vaccine, or
prior to departure from country of origin. Any of the following vaccines are accepted when travelling to the Philippines; Vaccines listed for Emergency Use Authorization (EUA); or Compassionate Special Permit (CSP) issued by the Philippine Food and Drug Administration; or vaccines listed for Emergency Use by the World Health Organization:
Pfizer-BioNTech/Comirnaty COVID-19 mRNA Vaccine (nucleoside modified)
COVID-19 mRNA Vaccine (nucleoside modified) [COVID-19 Vaccine Moderna]
Janssen COVID-19 Vaccine (Ad26.COV2-S (recombinant))
ChAdOx1-S[recombinant] VAXZEVRIA (COVID-19 Vaccine AstraZeneca)
SARS-CoV-2 Vaccine (Vero Cell), Inactivated [Coronavac]
Sputnik V Gam-COVID-Vac/Sputnik Light COVID-19 Vaccine
Whole Virion, Inactivated Corona Virus Vaccine [Covaxin]
COVID-19 Vaccine (Vero Cell), Inactivated [COVID-19 Vaccine Sinopharm]
SARS-CoV-2 rS Protein Nanoparticle Vaccine [Covovax]
Proof of Vaccination
Fully vaccinated travelers to the Philippines must possess and present any of the following proofs of vaccination:
COVID Rules: Babies and Children Traveling to the Philippines
Babies and children 3 years old and below who are asymptomatic are not required to present a pre-departure negative COVID-19 test result
Children below 12 years old who are unvaccinated and have negative COVID-19 test results, shall follow the quarantine protocols of the parent/s. (If their parents have valid; proofs of vaccination, negative COVID test results, one health pass and travel insurance [non Filipino parents]) children 12 years old and below will be allowed entry to the Philippines.)
Youth aged 12-17 years old shall follow the classification and procedures based on their vaccination status. If facility-based quarantine is required, parents shall accompany the minor during their facility-based quarantine.
For more information Visit: